Here are some Seahawks pictures from the game against the Redskins on Saturday. The Hawks played really well, especially the defense.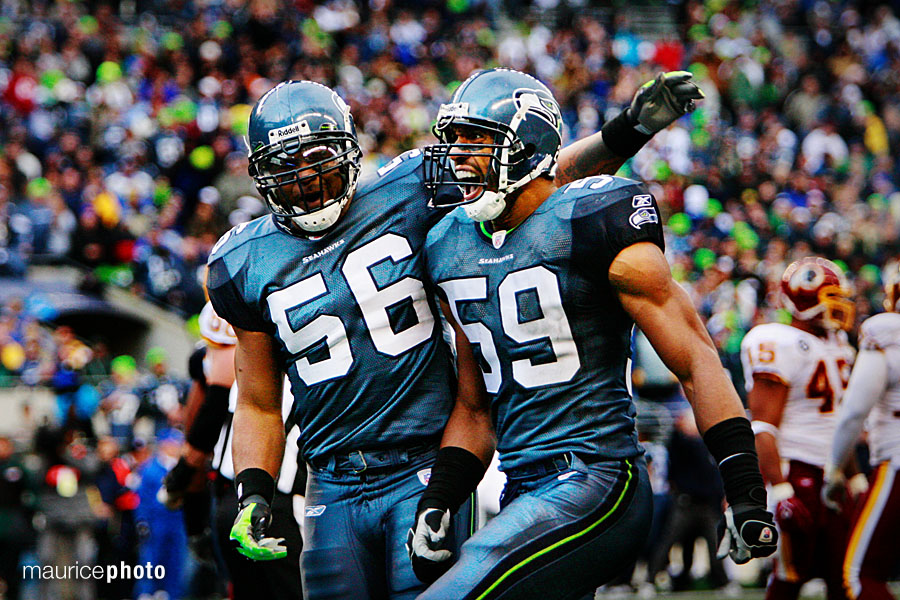 The defense carried a lot of the load in this game. They never let the quarterback or running game get comfortable. This picture is funny to me because it looks like a pack of Skittles exploded in the stands because of all the colorful rain coats.
Click below to see more pictures: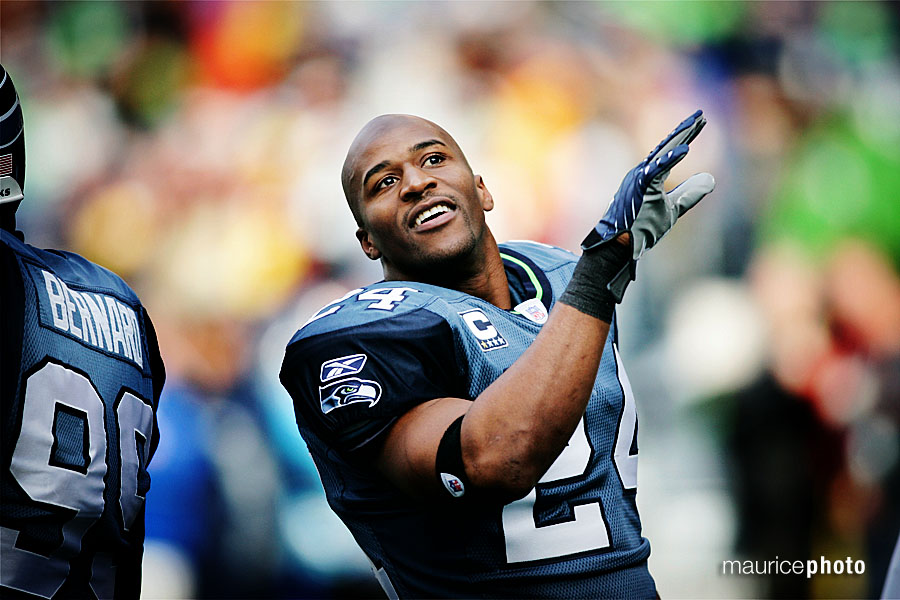 Safety, Deon Grant was feeling good before the game, dancing to the music playing on the PA system.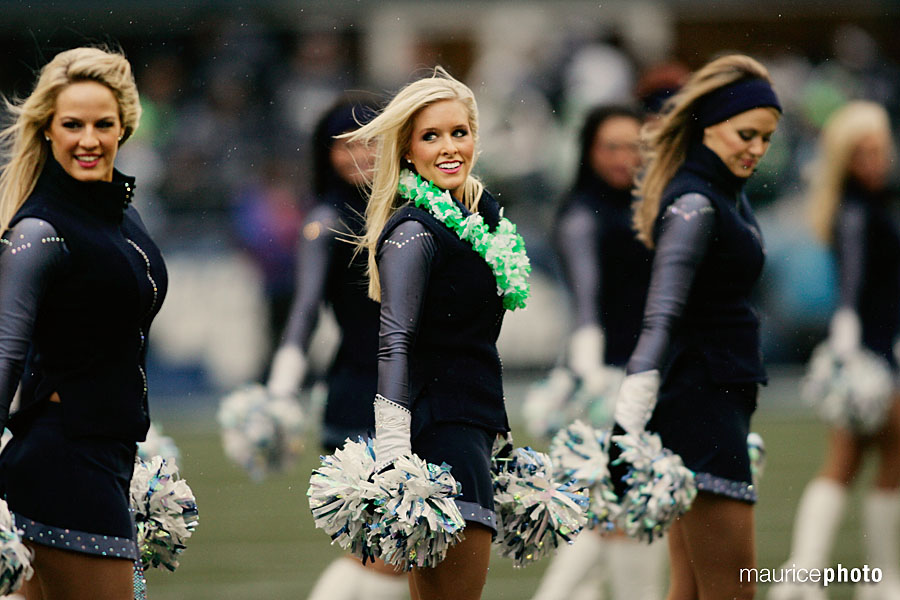 Here's Melanie, of the Sea Gals. She got to wear a lei during the game, as a symbol of her being selected to go to the Pro Bowl. I got selected to go to the Pro Bowl this year too 🙂 Though, not for my dancing ability.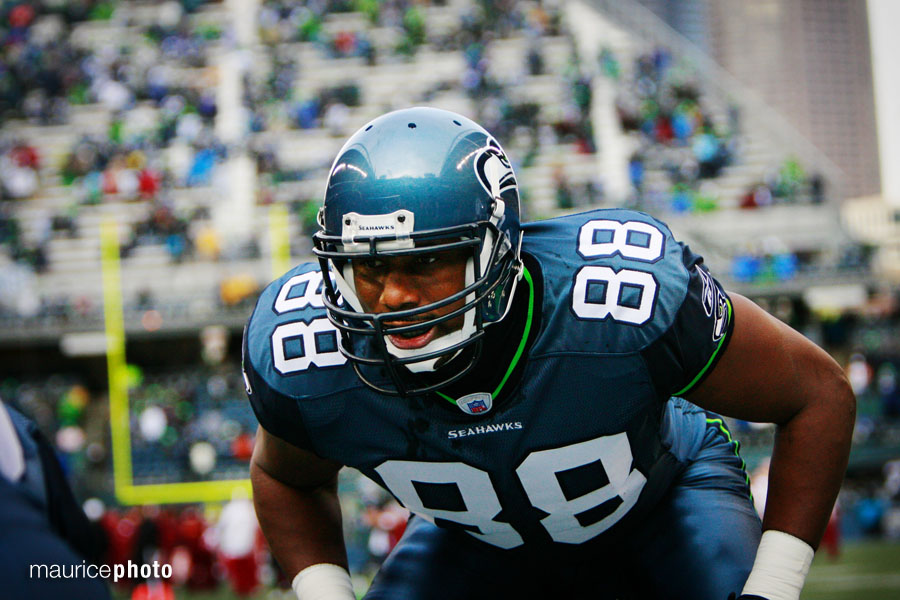 Tight End Marcus Pollard during pre-game drills.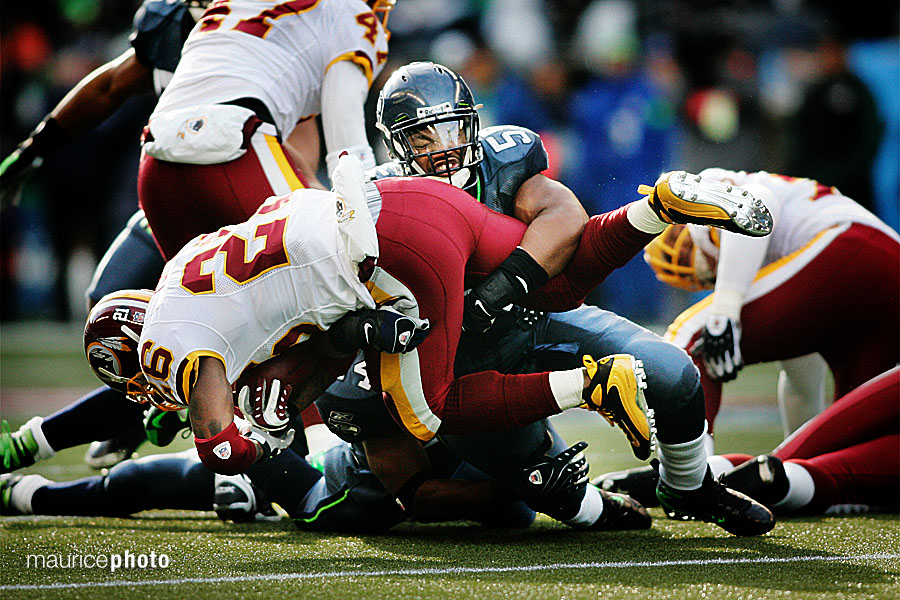 Daryl Tapp wraps up Clinton Portis. Have you ever seen a more thorough tackle than this? He's not going anywhere on this play.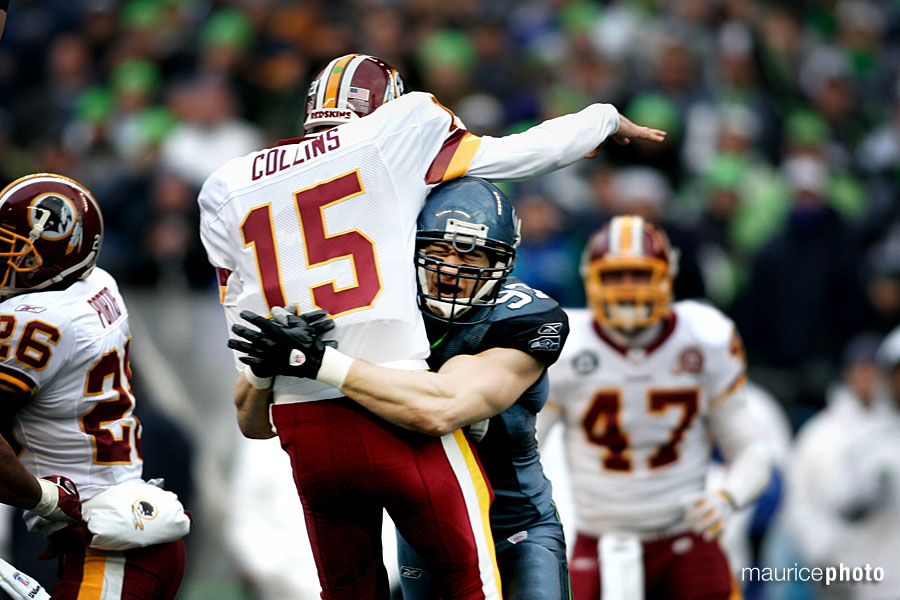 This is one of the early plays of the game, and one that set the tone for the entire day. Pat Kerney, hit the Redskin's Quarterback right as he released the ball, and drove him into the ground. Collin's was really shaken up on the play, and tried to push Kerney when he got up. You could tell he had never been hit like that this year and felt like it was a personal foul, even the play was totally clean and legal. The crowd noise, combined with the physical play of our defense never let the Redskin's get comfortable.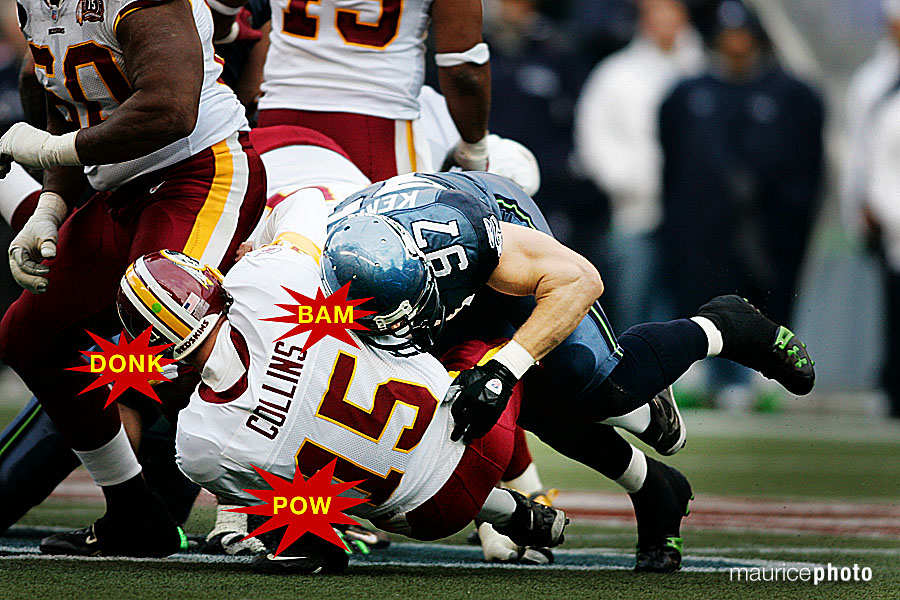 I don't think a lot of people realize how much punishment our defense doles out. I've added the Batman style graphics to this picture (which came about 5 frames after the one above) to illustrate how much this hurts. The "Bam" is when Kerney makes the initial contact with his helmet to the ribs and underside of Collin's arm, the "Pow" is where the other side of Collin's ribs hit the ground with all the strength and weight of Kerney pushing down on them, and lastly, the "Donk" where Collin's head will bounce off the ground from the shear force of the tackle.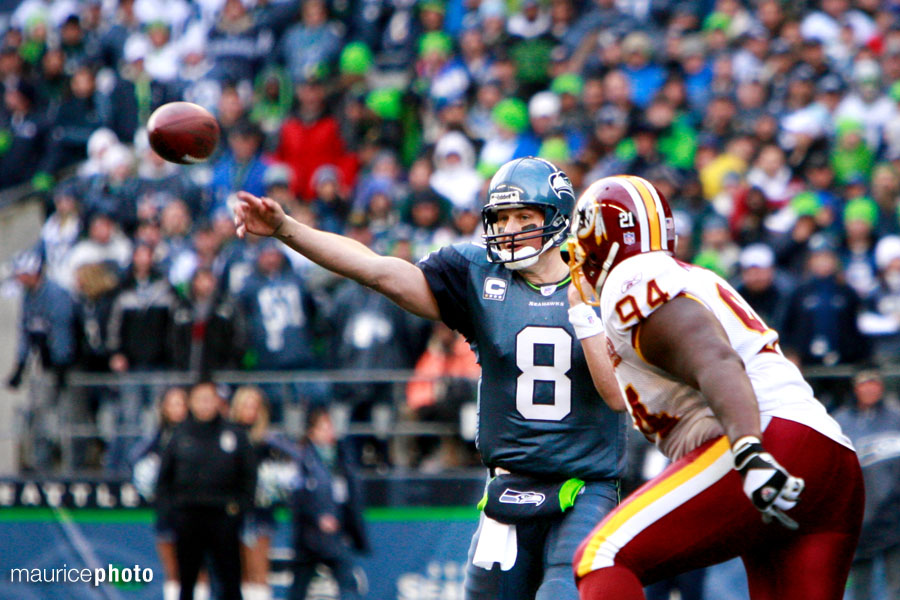 Hassellbeck fires a pass.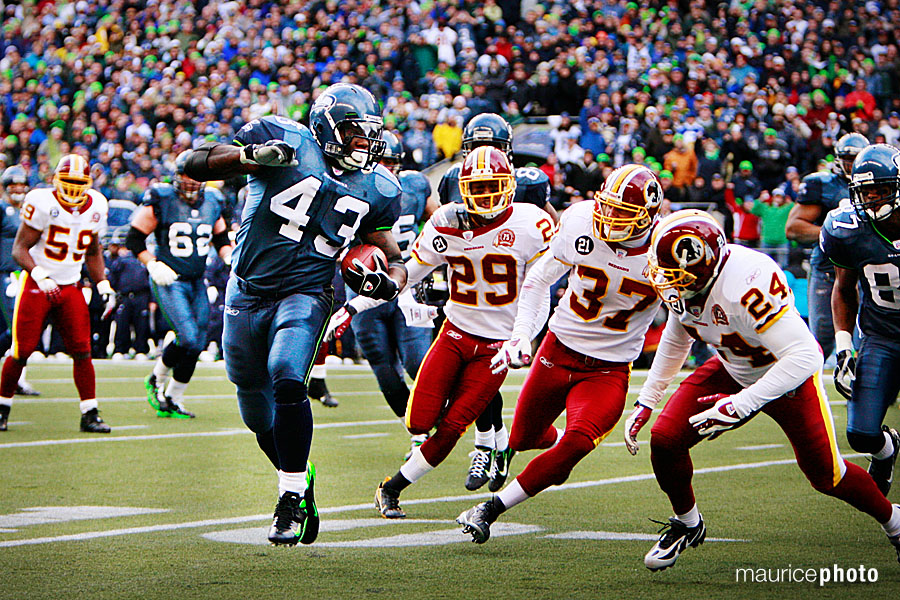 Weaver continued his stellar running and blocking. These three Redskin defenders could not keep him out of the end zone.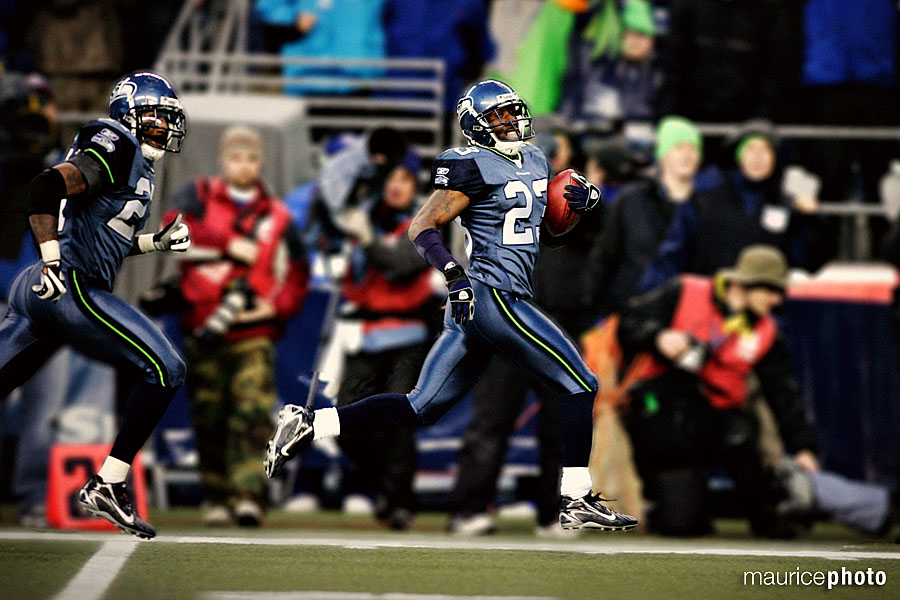 Trufant intercepted a pass, and took it all the way back for a TD to seal the win.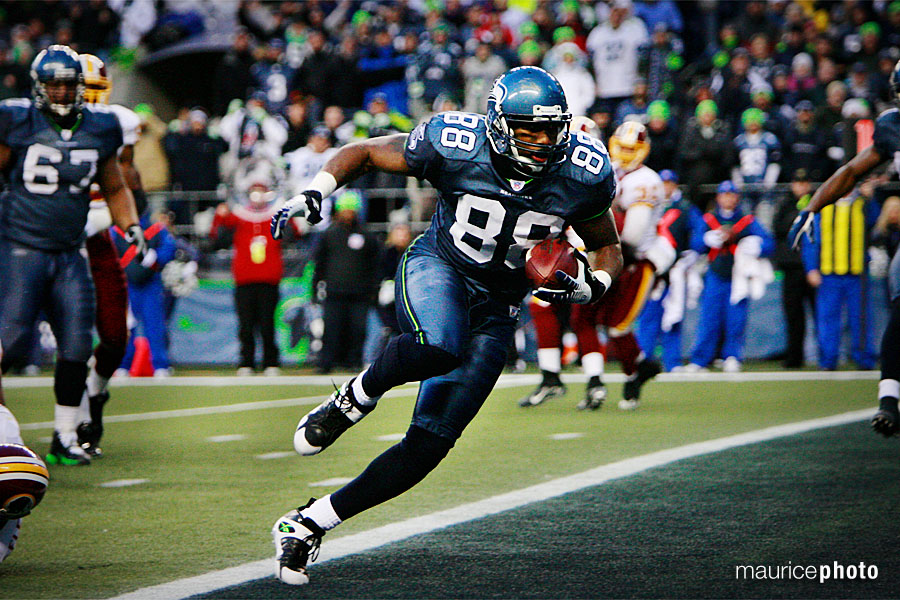 Pollard also visited the End Zone on a successful 2 point conversion.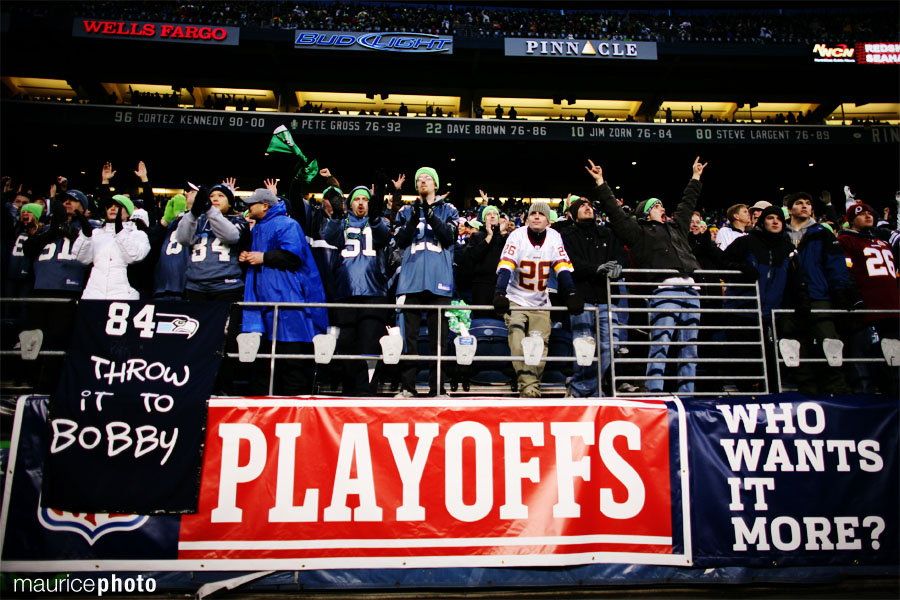 The crowd goes wild!